While these drum bags are not made in the Treefrog Percussion workshop, they are nonetheless the best value drum bags out there. They are made of a Navy Blue Cordura, are weather resitent, and keep your drum from getting scratches and dings during transport.
Drum Bag - $40
Leo is currently looking for other sources for drum bags, preferably local or from fair trade in Africa.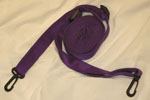 These drum straps are made from 1" tube webbing and are both comfortable and durable. They come with instructions on use, and all treefrog percussion Djembes and Ashikos have a sturdy mounting loop on the upper tension ring to mount them. They are available in red, blue, green or black, and come with instructions for use.
Drum Strap - $15